100 % LEATHER & KILIM WOOL BAG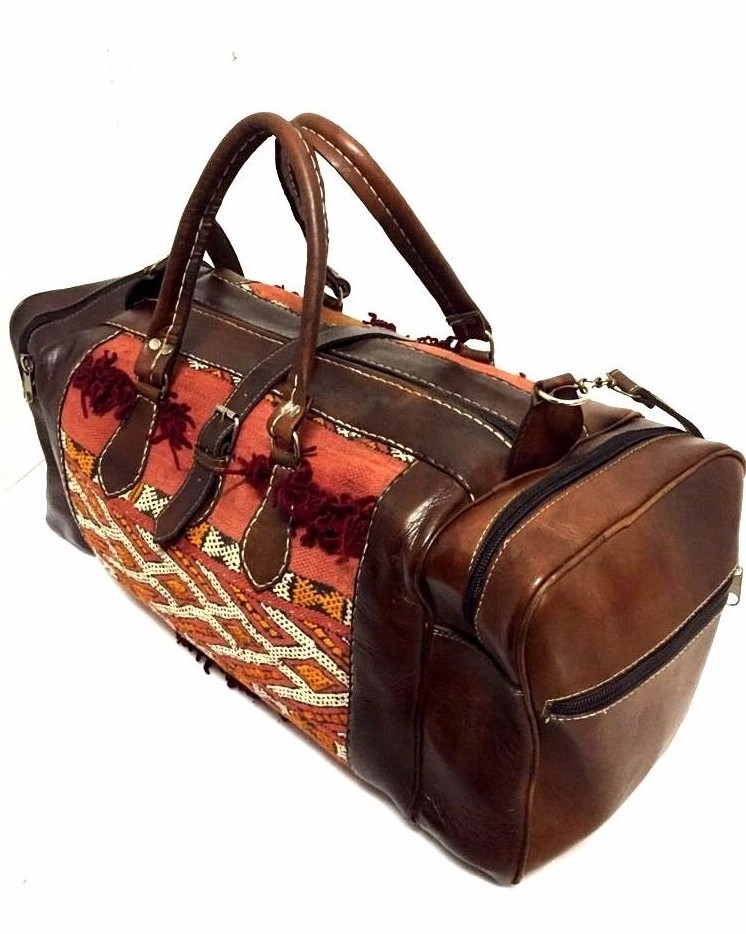 T
his unique, high quality, handmade travel bag made of unique
vintage wool Kilim and genuine leather will immediately
become your favorite, and remain so for many years! Each bag
will be unique. Great as an Overnight bag, Weekender, Carry
On, or take it to the gym or yoga.
Main compartment zips closed plus you have the leather buckle
strap for additional security and style. There are 2 leather
pockets – 1 on each side with buckle closure to keep your
smaller items handy, organized and secure.
HANDWOVEN KILIM WOOL ( NOT COTTON )
Kilim, a word of Turkish origin, denotes a pileless textile of many uses produced by one of several flatweaving techniques that have a common or closely related heritage and are practiced in the geographical area that includes parts of Turkey (Anatolia and Thrace), Morocco , the Balkans, the Caucasus, Iran, Afghanistan, Pakistan, Central Asia and China.
YOU ARE BUYING A HANDMADE BAG IN NEW CONDITION – MADE IN MOROCCO
SEE IMAGES IN ZOOM FOR ITEM DETAILS AS PART OF THE DESCRIPTION
MEASURES H:12 " X L:29 " X W: 12 " EXPANDABLE